Custom acoustics; let me design you a solution for a noisy (meeting)room
Acoustic design solutions.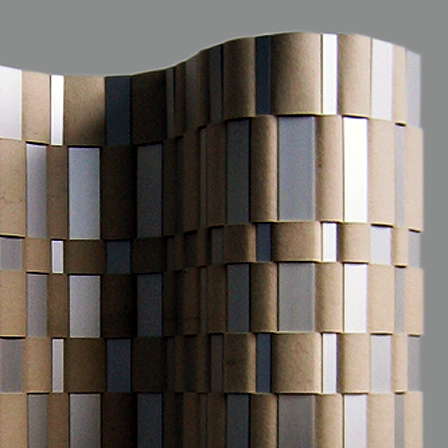 The industry sells the basic materials or half-finished products; acouctic dampening or sound absorbing 'polyester wool panels' and polyurethane foams. I design unique acoustic installations using these materials.
The industry's profit margin on making their material into a standard product, is very large. They frame the foam, cover it with open tissue and deliver it to your door. This big margin allows me to offer you unique custom made installations from the same material. The design is made to visually fit and uplift, you space. My one of a kind installations have the same acoustic effect, and include installation,  for the same price.
You can choose to pay the cost of industry overhead or you can have a unique acoustic design made especially for you.
Acoustic beaded curtain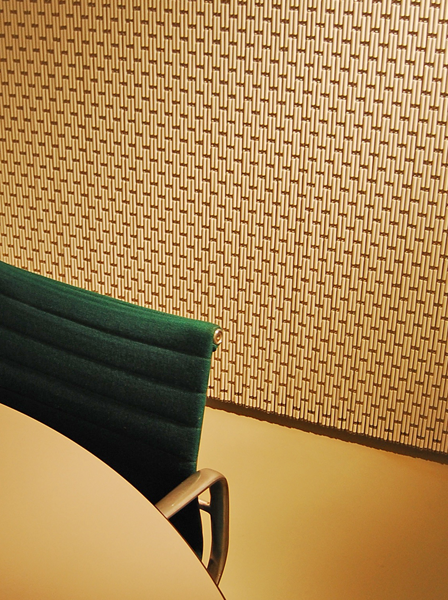 The idea that I apply most often is the combination of polyester wool acoustic panels with a beaded curtain facade in front. The curtain can be made to fit your meetingroom, (home)office of loft.  The curtain itself is available in gold, white, silver, transparent and Chinese red, or a designed combination of these.
The thickness or depth of the total acoustic installation is approx. 11cm. The height and width are wall to wall, floor to ceiling, if you so desire.
Natural acoustics; felt
Next to industrial standards there are beautiful designs to be made from felt. From roomdividers to cushions and wall pieces. Feel  free to contact me for a pricequote or to set up an informal meeting to discuss the custom installation I could design for you.
Let me make you a custom acoustic design